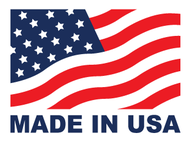 What do you have in your kitchen? Plates, dishes, silverware, coffee maker, microwave, mixer, can opener?
It's hard to find MADE-IN-THE-USA, and it might be nice to KEEP SOME OF OUR MONEY LOCAL, in the US, instead of shipping to problematic countries such as CHINA. Instead, support the USA, support England, Ireland, Australia, Israel, and other countries more friendly to the United States.
We're hoping that by STARTING THE LISTING BELOW, and adding to it every day, eventually we'll have hundreds or more options for you to choose from.
Can Opener – The EZ-DUZ-IT can opener is made in the USA by the John J. Stewby Company. Hazelwood, MO
www.steuby.com/can-opener.htm
OSHA USA
Made In America Products
https://ohsayusa.com/
VINTAGE KITCHEN products
Jacob Bromwell company "most of our products" made in usa
www.jacobbromwell.com/